Becoming an aunt or uncle is an unparalleled experience. The feeling of holding a newborn in your arms and snuggling them for the first time is truly indescribable. This momentous occasion deserves to be celebrated with gifts, balloons, toys, and a gorgeous flower arrangement that is specifically de[...]
Add To Cart
Add 8 Balloons for $42.95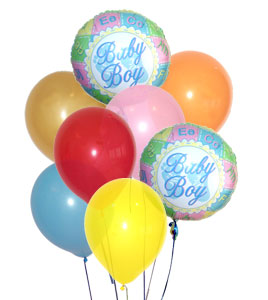 Becoming an aunt or uncle is an unparalleled experience. The feeling of holding a newborn in your arms and snuggling them for the first time is truly indescribable. This momentous occasion deserves to be celebrated with gifts, balloons, toys, and a gorgeous flower arrangement that is specifically de[...]
Becoming an aunt or uncle is an unparalleled experience. The feeling of holding a newborn in your arms and snuggling them for the first time is truly indescribable. This momentous occasion deserves to be celebrated with gifts, balloons, toys, and a gorgeous flower arrangement that is specifically de[...]
Becoming an aunt or uncle is an unparalleled experience. The feeling of holding a newborn in your arms and snuggling them for the first time is truly indescribable. This momentous occasion deserves to be celebrated with gifts, balloons, toys, and a gorgeous flower arrangement that is specifically designed for special events like this.

The color blue is typically associated with baby boys, while pink is often associated with baby girls. Our floral arrangement includes blue delphinium and blue iris, making it the perfect welcome basket for a baby boy. The delphinium flowers, shaped like dolphins, represent an open heart and strong attachment, while the blue iris symbolizes hope, admiration, and love.

The blue flowers are beautifully complemented by sweet yellow gerbera daisies, which represent purity, cheerfulness, and innocence - all the perfect qualities for a newborn baby. The arrangement is presented in a stunning wicker basket, adding to its visual appeal and creating a warm and welcoming feeling.

Order now to celebrate the birth of your little angel and proudly announce to the world that it's a baby boy. This delightful basket of love-filled and fragrant blooms is the ideal way to congratulate the new parents. Take advantage of our same-day delivery service, and our local florists in the US and Canada will deliver it to your desired address without delay.
Item No. F1-252
Price: $69.95