Welcoming a new baby into the family is the start of an exciting journey and a reason to celebrate! As the new parents embrace their precious baby boy, you can join in the festivities by sending a bouquet that conveys your love and support.

Our Boy-Oh-Boy Bouquet, part of our New Baby col[...]
Add To Cart
Add 8 Balloons for $42.95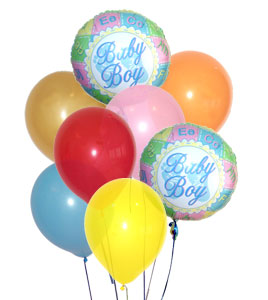 Welcoming a new baby into the family is the start of an exciting journey and a reason to celebrate! As the new parents embrace their precious baby boy, you can join in the festivities by sending a bouquet that conveys your love and support.

Our Boy-Oh-Boy Bouquet, part of our New Baby col[...]
Welcoming a new baby into the family is the start of an exciting journey and a reason to celebrate! As the new parents embrace their precious baby boy, you can join in the festivities by sending a bouquet that conveys your love and support.

Our Boy-Oh-Boy Bouquet, part of our New Baby col[...]
Welcoming a new baby into the family is the start of an exciting journey and a reason to celebrate! As the new parents embrace their precious baby boy, you can join in the festivities by sending a bouquet that conveys your love and support.

Our Boy-Oh-Boy Bouquet, part of our New Baby collection, is the perfect gift for the proud parents. This stunning arrangement features a mix of pale and light yellow carnations, yellow solidago, mini carnations in pale green, white Asiatic lilies, and lush greens. A clear, blue, and lavender wired ribbon adds the finishing touch to the cube-shaped glass vase, welcoming the special baby boy into the world.

With our same-day delivery option, you can brighten up the new parents' day and help them celebrate their bundle of joy. The combination of Asiatic lilies and roses sets the perfect tone for this exquisite piece. White lilies, symbolizing purity and virtue, add a special touch to welcome the baby boy.

If you're expecting a baby boy, this beautiful bouquet is a wonderful way to celebrate his arrival. Each arrangement is handcrafted with care and attention to detail, ensuring that it's as unique as the new baby boy. Our local florists across the United States can reserve your Boy-Oh-Boy Bouquet in advance or create a fresh arrangement for same-day delivery. Let's celebrate new beginnings and the joys of motherhood together!
Item No. D7-4905
Price: $64.95