The birth of a new life is a time of great celebration and happiness for everyone involved. It is a time to share in the joy of the new parents and welcome the little one into the world. It is important to show your love and affection for the parents and their newborn baby boy, and a beautiful flowe[...]
Add To Cart
Add 8 Balloons for $42.95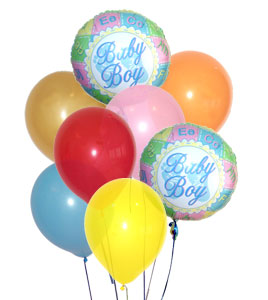 The birth of a new life is a time of great celebration and happiness for everyone involved. It is a time to share in the joy of the new parents and welcome the little one into the world. It is important to show your love and affection for the parents and their newborn baby boy, and a beautiful flowe[...]
The birth of a new life is a time of great celebration and happiness for everyone involved. It is a time to share in the joy of the new parents and welcome the little one into the world. It is important to show your love and affection for the parents and their newborn baby boy, and a beautiful flowe[...]
The birth of a new life is a time of great celebration and happiness for everyone involved. It is a time to share in the joy of the new parents and welcome the little one into the world. It is important to show your love and affection for the parents and their newborn baby boy, and a beautiful flower arrangement is an excellent way to do just that.

Congratulating new parents on their happy moment is a heartwarming gesture that they will surely appreciate. A lovely flower arrangement is the perfect way to join in the celebration of this new addition to the family. The Little Boy Blue Bouquet is a stunning selection of hand-picked flowers that makes an ideal gift for any new mother and father.

This flower arrangement features yellow roses, which symbolize the warmth of the sun and convey feelings of optimism, friendship, and joy. The Asiatic Lilies are often associated with the innocence and purity of a newborn, making them the perfect addition to this arrangement. The daisies represent new beginnings, motherhood, and childbirth, while the carnations bring good luck to the new parents and lots of love to the new child.

The solidago in the arrangement adds a beautiful pop of color that resembles a blue iris. It is accented with a blue satin ribbon and lush green leaves, and the oval woodchip basket it comes in makes it perfect for display in the center of the new baby's room, creating a warm and sunny ambiance.

Local florists understand the importance of expressing your joy at the arrival of a new child, and they offer same-day deliveries so you can send your beautiful flower arrangement as soon as you hear the fantastic news.
Item No. D6-5210
Price: $74.95